Working together to reduce unpaid super
Recent media shone a spotlight on ATO estimates of underpayments of $17.1 billion in compulsory super entitlements to Australian workers from 2009 to 2015.
It's a timely reminder of the role fund trustees can play in collecting unpaid super.
IFS has recovered $822 million in the last 5 years, and more than $1.7 billion on behalf of members since our operation was established in October 1991. 90% of unpaid super is collected from employers with 10 or fewer fund members.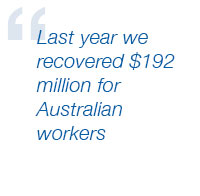 In our experience, the fund trustee is often the first to identify that a payment has been missed.
Most employers do not intend to fall behind, and generally the unpaid super can be collected without recourse to litigation. The earlier super funds act to recover unpaid super, the more likely the debt will be paid with a simple phone call.
That said, each year the IFS team issues over 600 statements of claim in court, recovering $8.6m last year. 98% of claims are uncontested.
We also represent the trustee in insolvency proceedings, and last year collected $30 million paid directly to Funds and $5 million paid to the ATO for work performed by IFS.
Speak to us to find out how we can work together to help your fund support your members.