ATO and IFS join forces to fight unpaid super
We're pleased to see the ATO ramping up its Super Guarantee compliance activity with legislation before Parliament that will enhance the ATO's enforcement powers, with greater visibility of super liabilities and new penalties including possible jail terms for those who fail to pay their super.

The Deputy Commissioner for Taxation, James O'Halloran attended the second meeting of the unpaid super working group that IFS has established with client funds.
This group has been formed to identify ways to improve the collection of unpaid super – whether that be through collaboration with the ATO, business process improvements, or new services that identify employers who are at risk of late or underpayment.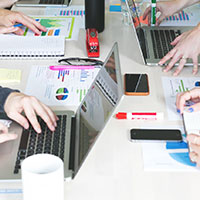 The tax office estimates that workers are missing about $2.85bn in super each year, and Industry Super Australia put it closer to $6bn. In the 2018 FY alone, IFS' Unpaid Super division collected almost $178m from 37,972 employers on behalf of 218,439 members.
If you would like to know more about the working group or would like to participate, contact Pauline Olson at polson@ifs.net.au